We made a few stops on our return home from Oklahoma City yesterday. It was an interesting day. I had my list of places to go and DH was kind enough to accomodate my whims. First stop was at Garden Ridge Pottery where I had hoped to find some inexpensive items to add to my backyard art, but nothing was inexpensive and I left sorely disappointed with only a $1.50 clearance purchase of a small wooden house. Next up was Hobby Lobby, where I found a bargain on two decorative birdhouses. One was damaged, so the manager knocked a bit more off of the price for me. Since these will be outside, cheap is better.
The air was so hot and humid, that everything was a huge effort, so we decided to go eat before heading back home. We settled on Zio's, one of my favorite restaurants. The last time we were there, our waiter had us in stitches and the food was exceptional, however this visit was not anywhere near as enjoyable.  I tried something new on the menu and the lemon was not mixed evenly throughout the sauce, which caused my jaws to "lock". You know that feeling….if not…imagine biting into the most sour lemon could imagine and how the sides of your face contract uncontrollably. Yep…that will take you  where I was yesterday….lol. The waiter offered another entre, which resulted in a huge plate of lasagna, but unfortunately my taste buds were too badly assaulted by the other that it seemed bland. After spending $27, I was ashamed of my decision of splurging.
I had hoped to visit Home Depot on our trek down the road, but again the heat was overwhelming for sissy ol' me and I didn't want to get out of the car. It suited DH well, as he isn't into spending money at the moment, so we just drove by the sheds and cabin that we always drool over with every visit to OKC. I keep telling myself…someday…yes…someday I will have this at the farm as a weekend and holiday retreat. Still longing as we pulled out of the parking lot, I asked DH to visit McClanes to look at RVs. I have a dream of one day traveling the country, working as I go, to see all 50 states. I don't know if going to the RV dealership was such a good idea. We saw some beautiful new and used trailers and RVs, but the sticker shock made me realize that I may never fullfill this dream. I suppose it was a realistic awakening.
Down the freeway we traveled, making our usual turn at Geary, OK to head towards Woodward.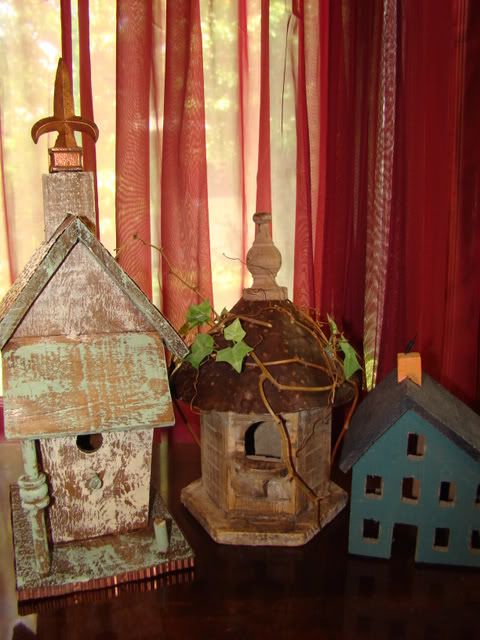 The birdhouses that I found….