My first attempt at solar cooking was not a total success, but subsequent efforts totally bombed. We constructed our makeshift solar cooker out of a cardboard box, weed barrier (which I would not recommend), glass from a screen door and a thermometer. At one point, I had the inside temperature up to 170 degrees, but when I had to reposition the items inside, I must have rearranged it enough that it did not seal as well. We had preheated the oven to around 120 degrees. After a couple of hours, I used a potholder to remove the items…a jar with broccoli and a pan of rice.
The rice and broccoli were not as done as I would have liked it, but it was all still edible.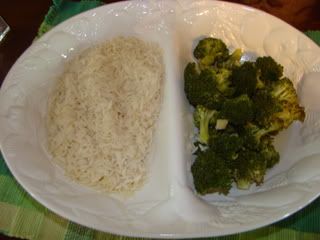 The next day I was going to try some lentils and rice, but the wind knocked over my window and it shattered. I had seen a video about cooking in black jars using aluminum pans, but I just could not get the temperature up high enough. Luckily, DH is in favor of solar cooking, so I was able to order the
Sport Solar Oven
from the
Peddler's Wagon
. I am so excited because the solar oven kit comes with two black cooking pots,  a solar reflector, oven thermometer, water pasteurization indicator and recipe book, which I am certain will come in handy.  I had looked at the other solar oven they offered, but was happy to see that the pans were included with this particular solar oven.