These past few days (or has it been weeks?) I have been missing in action here at TSB, partly because of travel, but mostly because I am feeling a bit overwhelmed in several areas of my life at the moment. In order to forge forward through this mental fog touched with a bit of laziness, I thought I would post a couple of update photos (maybe that will put me in a more positive frame of mind…haha!).
My morning glories are beginning to show some movement, which is a good thing since it seems that I am not going to be able to train my roses to grow over my arbor.


The walkway in the backyard is beginning to take shape. Moving the rock from the old "patio" area under the tree has proved to be difficult and back-breaking. I think we have enough materials on hand to take the walkway to the alley behind the house. I am very disappointed that I do not have my concrete patio poured yet. This darn weather is making many projects drag out….and I just know that as soon as these storms stop, the temperatures will rise quicklly making the work even more difficult!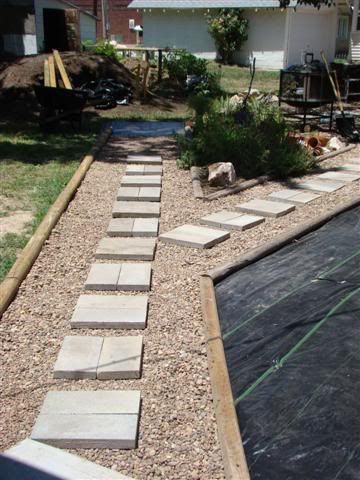 Currently, my tomatoes are back on the side porch with the last threat of golf ball sized hail. Fortunately, we did not get any…but you know that the reason we didn't is because I DID move those tomatoes. If I had left them in place, the hail would have surely shown its face…haha!




My beans are beginnging to show some signs of growth, as is my basil…so maybe things will start happening around here. I really need to find some kind of mulch before the heat waves begin. I don't want to put down grass clippings because we have so many weeds in our yard….and DH doesn't know where the grass catcher is anyhow. We have had neighbors volunteer their clippings, but all of them use chemicals on their lawns…so that is not an option. I might have to just bite the bullet and purchase some straw.