Yes, we have yet another mouth to feed. Well, several new mouths if you count the batch of about 15 new baby guppies also.
This is Buttercup…and an adorable little darling that found me one day while I was out hanging laundry. DD was out of town at the moment, so I thought I could just feed it and find the rightful owner. No one that we talked to knew who it belonged to and before I knew it…I had become a surrogate kitty mom. She followed me around and would climb up into my lap then up my shirt until she could nestle under my chin.
We didn't tell DD about the new kittten and waited for her to be greeted by the dumpling when she arrived home from Pittsburg State Basketball Camp. She was pleasantly surprised as were we when DD actually started taking over the feeding and care of the newly named "Buttercup".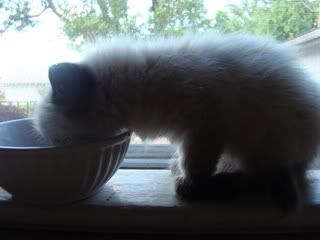 Buttercup caught a cold and had an eye infection which ended up costing me $35 and a $10 trip to town…so I suppose now that she is officially OURS.