The Sustainable Backyard is hosting our first ever…
STAYcation Extravaganza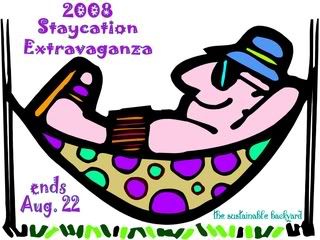 Summer is here and I am "itching" to go on vacation. In an earlier post I wrote about staycations as a means to having a way of celebrating summer without spending all of your child's inheritance.  Not all of us can afford what most of us would normally call a real getaway to places unknown, but ALL of us can plan a STAYcation Extravaganza. What is that, you ask? Anything you want it to be, I answer! A backyard campout, day trips to local attractions in your area, a day camp or carnival run by the kids in the family, a read-a-thon, a day spent pampering yourself, a couple of days with the house to yourself and the kids at grandma's, a house swap with a neighbor…YOU decide!
The Extravaganza will continue through the summer until August 22, which is actually two weeks after our kids go back to school. Hopefully, that will add little extra time for those who don't return quite as early. Your STAYcation Extravaganza can last a day or a month…again, you choose.  I am in the process of trying to figure out how  Mr. Linky works  and will have him up and going soon, so that we can all share our successes and even our disasters. Don't hold back! Maybe someone else can learn from your experiences.
Being my first proprietary attempt at carnival or meme, I am certain there will be continueal editing issues as I am learning. Feel free to offer suggestions or to ask questions.
UPDATE: 
I like receiving gifts, but I LOVE giving gifts even more.
Every person who posts a comment (even if it's only to say that you are participating) on this original post of the Extravaganza will have their name entered into the drawing.  If you write a post about the contest in your blog and include the STAYcation Extravaganza icon in your sidebar, your name will be entered a second time (just let me know by a comment or by email so I can add your name twice 🙂 . The third entry chance for the drawing comes when you actually write about your own STAYcation on your blog and then link it with Mr. Linky (again, I am still trying to figure that all out…might have to find someone who has used it before to help me out.)
The drawing will take place after midnight on August 22, 2008.